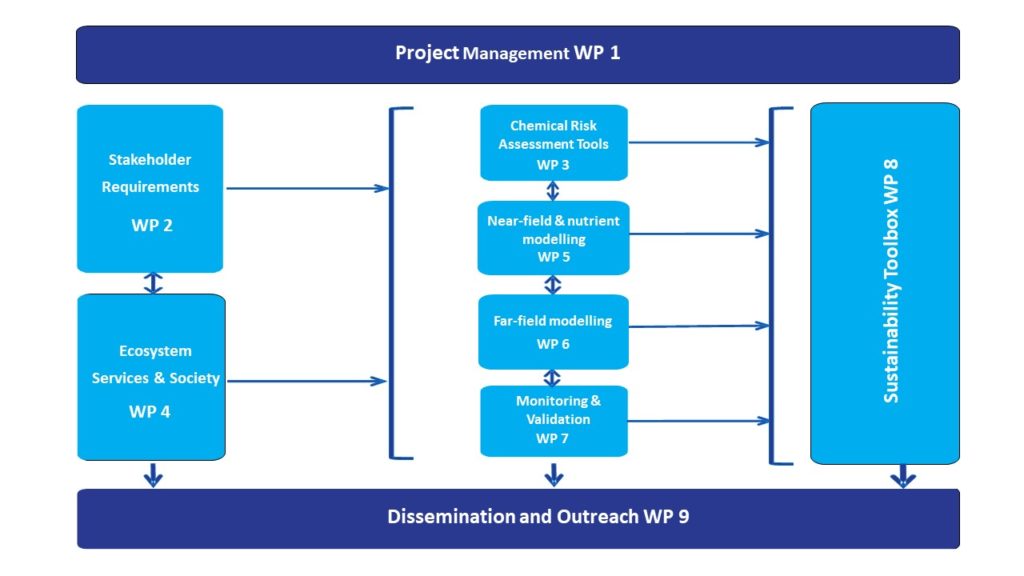 TAPAS consisted of a tightly integrated set of nine work packages. Project management (WP1) and Project integration (WP2) represented interlinking and continuous components of the structure while the core activities (WP's 2, 3, 4, 5, 6, and 7) generated new data, tools and approaches contributing to the resulting Sustainability Toolbox (WP8). Dissemination of the project outcomes were auctioned through WP9 which addressed outreach, training, and exploitation of project outcomes.

It co-ordinated the consortium partner roles, managed the contributions to the project, responsible for the communication and quality assurance as well as for organising meetings and creating progress reports.

Included a comprehensive review of regulatory and licensing frameworks and processes across the EU. It transformed the requirements into proposals for more timely and cost-efficient tools.

It reviewed the existing modelling tools and summarised the development and applicability of the models. It assessed the system's carrying capacity, chemical dispersal and ecotoxicological impacts.


It evaluated the environmental and social impacts of aquaculture. It also adopted an approach about all benefits humans derive from freshwater and marine ecosystems.


It measured the capabilities and verification levels of existing near-field factors affecting site selection and spatial management models for aquaculture development.


It integrated regional physical-biogeochemical models and long-time series to support fine-scale models.


It evaluated and contributed to the development of new systems for automatic in-situ and EO measurements of physical, ecological and chemical water quality including novel biosensors and optical sensors.

It collates models, relations, and method descriptions, as well as weights the results emerging from environmental, economic, and societal tools. It also serves as basis for efficient decision support applicable in the major aquaculture segments in EU.

It engaged with the main dissemination and outreach pathways across the EU to strengthen the environmental sustainability of the EU aquaculture sector and to enhance its image.